Sell More Ads with Co-Op Advertising
Co>Op Connect is the fastest, easiest way to connect your local retailers with the over 8,000 name brands in co-op advertising while giving them bigger budgets and money back from their media purchases.
Get an Online Tour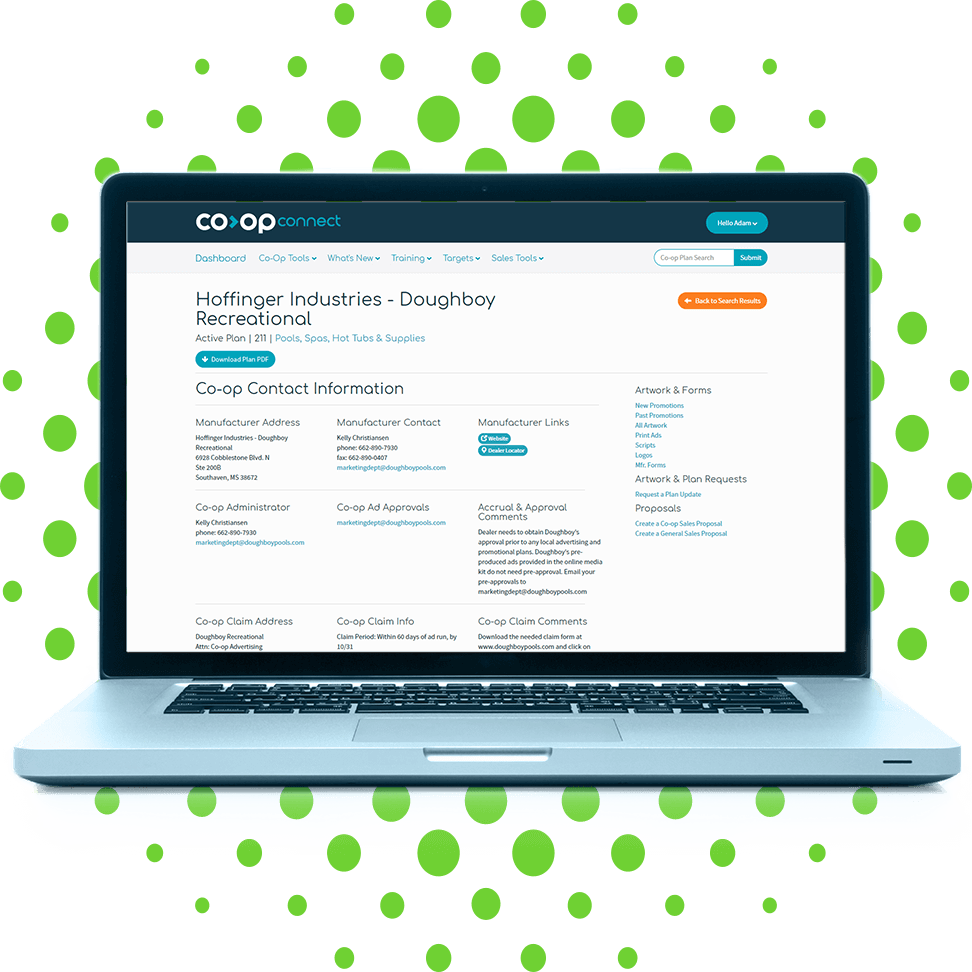 The Co>Op Connect Database
Connect Your Clients to Over 8,000 Co-Op Advertising Plans
Struggling to find co-op information for your advertisers? No Problem! Our Co>Op Connect Database brings thousands of co-op brand programs into one, easy-to-use web application that features information such as co-op contacts, accrual rates, reimbursement percentages, media type descriptions, promotions, ad materials and so much more. If your clients have ever asked, "How can we make our marketing budget do more?" – now you can provide new solutions and opportunity with co-op advertising funds. Co>Op Connect provides you and your agency with everything you need to increase media sales through cooperative advertising strategies. With decades of experience and expertise, we provide real solutions to help your customers buy more media ads.
24-hr access to Co>Op Connect's comprehensive online database
Over 8,000 co-op advertising plans from major brands and manufacturers
Get the latest co-op advertising plans as they become available
Simplifies the research of co-op advertising programs for your clients
Get quicker turnaround times with our exclusive co-op tools
Free Demo & Pricing
The Co>Op Sales Advantage
Give Your Clients More
Let Co>Op Connect help you and your clients get all of the co-op dollars that they have earned. Your advertisers may have already earned hundreds – or even thousands – of dollars in co-op advertising funds that may be currently available for immediate use. Co-op advertising dollars are like money in the bank! They expand the promotional budget without increasing out-of-pocket expenses, allowing your advertisers to advertise more often and impacting their bottom line. When you are competing for a client's advertising business, we help local marketers and agencies stretch advertising dollars with co-op advertising strategies and solutions. We are here to help you and your team close more sales! Just see what some of our latest Co>Op Connect Subscribers have accomplished:
Recently, a motorcycle and recreational dealership netted $18,000 in co-op funds, helping the business owner achieve an incredible 6 to 1 ROI.
This summer, a pool and spa builder had $3,000 available in co-op funds with a pool chemical brand, allowing the owner to run a new ad campaign.
A home construction company discovered that they had $5,000 available in co-op funds for a cabinetry co-op brand, allowing them to run more ads this season.
Just last month, a New England newspaper group found over $22,000 in accrued co-op dollars for five of their advertisers simply in one day.
Co>Op Connect Services
We Optimize Co-Op Advertising for You
Co>Op Connect can help you and your team generate more sales opportunities by providing customized-levels of co-op advertising services and support to meet your needs.
Learn How to Sell More Ads with Co>Op Connect!
We can tell you exactly how much co-op money is available for your advertisers and help you through the entire co-op process. Contact us today for a free, online demonstration and to learn about our Co>Op Connect Database, services and pricing for your team!
Schedule a Demo
The Co>Op Connect Knowledge Base
Everything You Need to Know About Co-Op
With a subscription to Co>Op Connect, you now gain access to the all-new Knowledge Base! The Co>Op Knowledge Base is an exclusive, online resource that provides everything you need to make co-op effortless and includes the Co>Op Database Guide, an illustrated manual on how to utilize the Co>Op Database and understand manufacturer co-op advertising plans. The Knowledge Base provides all the Co>Op documents and forms for both you and your clients, and the new Co>Op Sales Guide gives you step-by-step instructions on how to sell more co-op advertising while supporting your advertisers through the entire co-op process. See for yourself how co-op advertising is anything but complicated with Co>Op Connect!
Free with a subscription to the Co>Op Connect Database
Print or digitally fill-out co-op forms for your advertisers
Utilize the Co>Op Database Guide with diagrams and in-depth details
Simplify the research of co-op advertising programs, promotions and processes
Read step-by-step instructions and quick-tips on how to sell more co-op advertising
Learn how to support your advertisers with the Co>Op Sales Guide
Look-up co-op terminology and learn more about co-op advertising as a whole
Download forms, sales guides and other essential documents
Free Demo & Pricing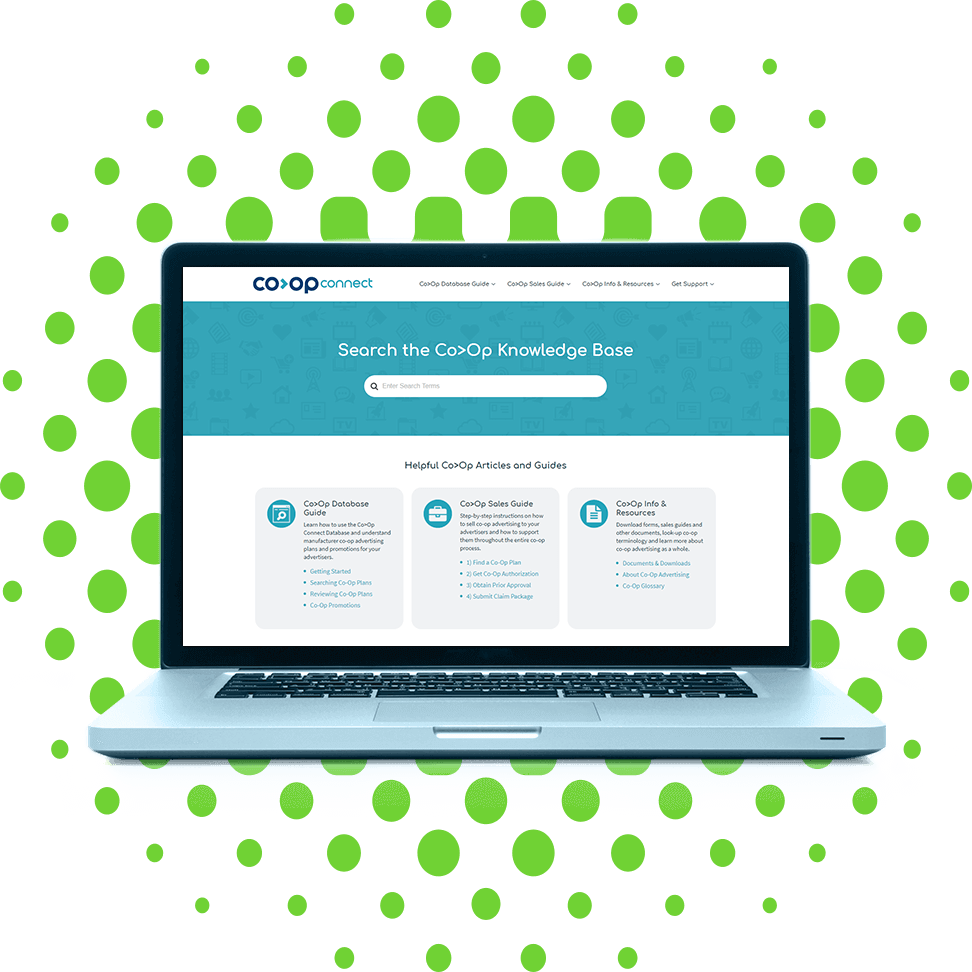 What is Co-Op Advertising?
Co-op advertising is when a retailer launches a locally-run ad that includes a specific mention of a big-name brand, who in turn repays or credits the retailer for all or part of the cost of the advertisement. Major brands and manufacturers want to reach their target demographic in the same way retailers, vendors and dealers want to advertise to their local customers and community. For this reason, co-op advertising is a partnership between the big-name manufacturer and the neighborhood retailer to share the cost of advertising at the local level. Co-op advertising is a real, cost-effective way to minimize media costs, ad production expenditures and creative expenses while increasing ROI by reaching more of the target audience.
How Does Co-Op Help My Client?
Co-op advertising increases:
ROI from Advertising Campaigns
Prospect Perception
Frequency of Advertising Campaigns
Product Movement
Sales Volume
Profit Margin
Store Traffic
Retailer's Satisfaction
Who Uses Co-Op Advertising?
Media companies from big to small use Co>Op Connect for their sales teams:
Broadcast Media Companies
Digital Media Companies
Outdoor Media Companies
Publishing Companies
Ad Agencies
Product Manufacturers
Retailers & Distributors
Trade Associations
Social Media Companies
About Co>Op Connect
The Industry-Standard Solution for Co-Op Advertising for Over 35 Years
Co>Op Connect is a full-service provider of customized co-op advertising solutions. We provide our clients with everything they need to increase sales through co-op advertising. Co>Op Connect celebrates the spirit of teamwork, reliability, excellence and value by continuing to systematically improve with expertise, technology, strong leadership and great team members.